Nepal is an Asian country that lies in the lap of the Great Himalayas. It is land of scenic beauty, amazing flora and fauna, diverse culture, culturally rich, enormous number of temples, elegant palaces and magnificent mountain ranges. It lies between to Asian countries China in North and India in South. It is one of the finest countries in the world for trekking and river rafting. Out of 14, eight of highest mountains of the world is in Nepal. The world's highest mountain Mt. Everest is in Nepal. It is birth place of lord Buddha. The capital city of Nepal is Khatmandu. The other two main cities in Nepal are Patan and Bhaktapur.
The main sightseeing places in Nepal are
Bouddhanath Stupa

Pashupatinath Temple

Budhanilkantha

Balaju water Garden

Swayambhu Nath stupa (Monkey's temple)

Kathmandu Durbar Square.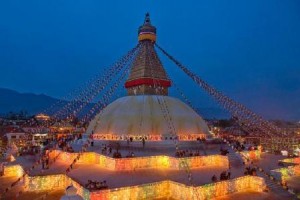 Kerala Tour Packages | Indian Tour Packages | International Tour Packages