Manali is at an altitude of 2,050 m (6,726 ft) in the Beas River Valley and is a beautiful hill station nestled in the mountains of the Indian State of Himachal Pradesh near the northern end of the Kullu Valley. It is located about 270 km (168 mi) north of the state capital, Shimla.
Manali is situated near the end of the valley on the National Highway leading to Leh. The landscape here is amazing. You can see well-defined snow capped peaks, the Beas river with its clear water meanders through the town. On the other side are deodar and pine trees, tiny fields and fruit orchards. It is an excellent place for a holiday, a favourite resort for trekkers to Lahaul, Spiti, Bara Bhangal (Kangra), and Zanskar ranges. From temples to antiquity, to picturesque sight-seeing spots and breath taking adventure activities, Manali is a popular resort for all seasons and for all travellers.
Below are the main  places for sightseeing in Kullu Manali:-
Rohtang Pass 
It is the most famous tourism destination of Manali. It is located at the height of about 14,000 feet above the sea level. It is famous for huge snow-fall throughout the year. It is closed for tourist in winter season due to huge rainfall.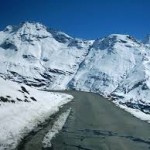 Hidimba Devi Temple
This is the temple of goddess Hadimba Devi wife of Lord Bhima This temple contains four level and well known for its statue of animals, plants and local divinity.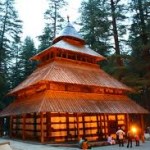 Manali Sanctuary, Vashist Spring, Winter Carnival etc are the other famous tourism attractions of Manali.       
Bijli Mahadev Temple
This temple is also situated at Sultanpur and has great religious importance. This temple is famous for a 20 height of pole and Lord Shiva Statue.  The statue of Goddess Durga, Lord Vishnu and Lord Ganesha are also present in surroundings of this temple. 
Apart from these attractions Jagannathi Devi Temple, Akhara Bazaar, Kaisdhar, The Great Himalayan National Park are also the attractions of Kullu which are equally famous and attractive.
If you are looking for a break from the drudgery of your daily life, Head to Kullu Manali where sheer natural beauty, fresh air, refreshing environment, gorgeous greenery, peaceful ambiance and salubrious climate awaits you to refresh and give you a perfect relaxation. It is sure that you will leave Manali with a rejuvenating experience after your holidays.
Kerala Tour Packages | Indian Tour Packages | International Tour Packages