Kerala Tourism – Places to Visit in Kerala
Kerala also known as God's Own Country is one of the best places to visit in world, recommended by National Geographic Traveller. Kerala is mainly known for its hill stations, backwaters, houseboats, beaches and wild life sanctuaries. Nearly one crore tourists visit Kerala each year, out of which 25% is tourists are from other countries. So if you are planning to Visit Kerala soon, this site will help you know more about all the beautiful places in Gods Own Country.
Kerala – the one and only place in India where you can enjoy the beautiful waterfalls, fog filled Hill Stations, the refreshing breeze of sea beaches, never before experience of stay in houseboat through backwaters, never seen species of flora and fauna and the places marked in Indian history. Tourism to Kerala is increasing day by day.
Below we are listing various places and details which will help you to plan your trip according to your choice.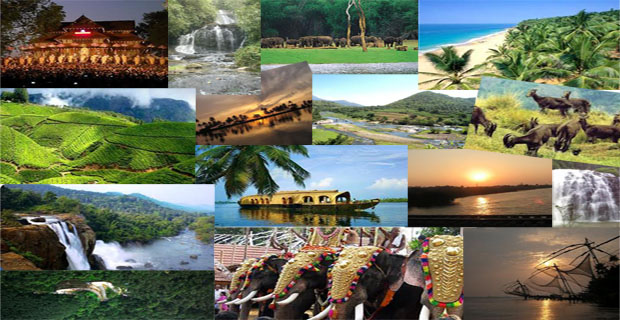 Kerala Hill Stations:
1)     Munnar
Munnar – breathtakingly beautiful – a haven of peace and tranquility - the idyllic tourist destination in God's own country. Set at an altitude of 6000 ft in Idukki district, Munnar was the favored summer resort of the erstwhile British rulers in the colonial days and is the main part of Kerala Tourism. Unending expanse of tea plantations – pristine valleys and mountains – exotic species of flora.
This green hill station is surrounded by the country's highest tea gardens. Layers and layers of tea estates, mountain mist, waterfalls and wildlife sanctuaries make Munnar almost surrealistically beautiful. The lofty mountain ranges with misty peaks, sprawling tea estates and serene climate provides a quite and peaceful resort. This little sleepy village atop the western ghats is situated at the confluence of three mountain streams namely Mudrapuzha, Nallathanni and Kundala. Panoramic views of low flying clouds and mist-filled valleys make it a pretty little heaven with a cool, bracing climate. Misty mountain peaks blend harmoniously in Munnar to create a blissful atmosphere that is hard to describe. Munnar is also famous for the wild orchids locally called Neelakurinji which blooms once in 12 years. During this time the entire valley turns violet.
The nearest major railway stations are at Ernakulam and Aluva (approximately 140 kilometers (87 mi) by road). The nearest airport is Cochin International Airport which is 105 kilometers (65 mi) away.
2)    Devikulam
Located at a distance of about 13 kms from Munnar, this hilly destination is an arcade of natural beauty with its lush foliage, exotic plant and animal life and rustic mountain life. The lakes and their mineral springs and quaint charms make Devikulam an ideal weekend getaway.
3)    Ponmudi
An enchanting hill resort with narrow winding pathways and cool, green environs. Ponmudi is a picturesque hill station of Kerala. This place is blessed with an array of mountain flowers, exotic butterflies and rivulets. A mere one and a half hour's road journey separates the beaches of Thiruvananthapuram from the invigorating climate of Ponmudi Hills.
Ponmudi is the nearest hill station to Thiruvananthapuram (61km). It is located 915 meters above sea level. The name Ponmudi in Malayalam means golden crown. Ponmudi offers excellent opportunities for trekking. With its tea estates and misty valleys the spot is a fast developing into hill resort with cottages and dormitory facilities.
4)    Vagamon
Vagamon is a hill station located in Kottayam-Idukki border of Kerala. It has a cool climate with the temperature between 10-23°C during a summer midday. It is situated 1,100 meters above sea level.
Vagamon is a tiny plantation township in Central Travancore, Vagamon has an overtone of green. With a never-ending line of lush green hills, breathtaking ravines and meandering rivulets. A perfect tourist place situated 1200 meters above the sea level spot surrounded by the greenery of tea gardens, Fresh cool air, murmuring Pine forest, small waterfalls, attractive meadows inviting you to Vagamon.
Reaching Vagamon itself is an extraordinary experience. The meandering road to Vagamon is cut in solid rock lined with pine forests. And as you wind your way through green capped hills, the rolling plains come into view thousands of feet below you.
The Vagamon hill station offers you a unique and different environ in comparison to other hill stations of Kerala. Besides, being abundant in natural beauty, the place also offers space for spiritual activities. The peaceful surroundings with cool and soft breeze blowing across the valley makes it a perfect place for meditation.
5)    Wayanad
A discreet hill station located in north western Kerala, Wayanad is set along the higher slopes of the Nilgiri Biosphere on the southern fringe of the Deccan Plateau. Wayanad is the plantation district of Kerala, once you visit this place you are bound to agree with this term.
Wayanad is ideal for travellers with a passion for the outdoors. The landscape is majestic, composed of rugged, lofty ridges interspersed with dense forests, deep valleys, eye catching waterfalls, mountain streams and tranquil fresh water.
Kerala Beaches:
Kerala is known for its lush coconut groves, balmy weather, pallid backwaters and splendid beaches. The beaches in Kerala are characterized by long stretches of golden sand, clear skies, and rows upon rows of swaying palm trees. Easily available accommodation is the icing on the cake. Get cheap tour packages to these beaches from us. Here are our top 5 picks of the best beaches in Kerala.
1. Calicut Beach
Kozhikode has a beautiful beach from which you can watch some stunning sunsets. There is a lighthouse and 2 very old piers that extend towards the sea. This beach is said to be full of historical significance as it was here near this beach that Vasco Da Gama landed, in his search for the spices of the East. Today the serenity and lush green countryside combine to make this a popular tourist destination with divine natural beauty and old world charm.
2. Kovalam Beach
Located 10 kilometers off the city of Thiruvananthapuram, the golden, crescent shaped sands of Kovalam are unforgettable. There are 3 beaches : Hawah Beach, Lighthouse Beach, and Samudra Beach. The soft, yellow expanses of these beaches are backed by swaying palm trees and fronted by the glittering ocean. The gentle breeze that blows constantly, along the coastline is simply divine. The best time to plan a trip to Kovalam beach is from November to March and it is very important part of Kerala tourism.
3. Cherai Beach
Cherai Beach is located at the Gateway of Muziris, the  heritage capital of Kerala, 25 km from Cochin International Airport. This tropical paradise intoxicates you with its charming exotica. Seductive beaches, serene backwaters, swaying coconut lagoons, lush green paddy fields, delicious cuisine – a sublime heritage.
4. Fort Cochin Beach
A stroll along the beach, particularly at sunset with the Chinese fishing nets and sailing ships in the background, is a memorable experience. Many European style bungalows can be seen along the shoreline. The coastal stretch has loads of small stalls, which make on demand mouth-watering traditional cuisines using freshly caught fish.
Kerala Backwaters and Houseboats:
1. Alleppey
Tourism in Kerala includes the cruising through Alleppey. Alleppey also known as Venice of East is a place of backwaters and houseboats. It attracts people from all over the world for its scenic beauty and cruising through the spectacular backwaters, which is one of a kind experience. An over night stay in the houseboat is a thrilling affair to do for all group of people. In this world of simple pleasures, you will skim past ancient Chinese fishing nets, water lilies, lush paddy fields, coir villages, rustic homes, temples and coconut groves. A guided tour down the backwaters would provide you with a complete and most enchanting experience on the back waters of Kerala and will also reveal to you some interesting facts about the life of local village people. On the board there will be a chef, a kitchen assistant and a driver. The boat will be exclusively yours for the day.
2. Kumarakom
Kumarakom is another beautiful place where you can enjoy the bliss of nature and relax yourselves in the floating houseboat in the backwaters. They are designed traditionally but equipped with modern amenities which gives your a feeling of luxurious stay. Stay, dine and experience the beauty of greenery and backwaters through the banks of Kerala.
3. Kollam
The splendid town of Kollam on the Ashtamudi Lake is renowned for being the gateway to the beautiful backwaters of Kerala. Kollam to Alappuzha cruising is the longest cruise. This boat ride from Kollam to Alappuzha takes 8 hours and is a delightful ride, passes through lakes, canals water-bound villages. The famous "Cheenavala" or Chinese fishing, lotuses and water lilies growing in the water, water birds calling from the banks and otters splashing and playing in the water. This historic coastline district known for its marine and cashew industries was one of the oldest ports on the Malabar coast and a major international trading point Some important must see destinations on the banks of the Kollam backwaters includes the Sasthamkotta fresh water lake, Thirumullavaram beach, Subramanya temple, Rameshwara temple and other tour sites.
Wild life Sanctuaries and National Parks:
Wild Life Santuries:
There are thirteen Wild Life Santuries in Kerala.
1. Periyar Wild Life Sanctuary, Thekkady : It is a Tiger reserve and attracts very large number of tourists to Kerala. Major attractions of Periyar wildlife sanctuary are boat cruises on the lake, elephant ride, trekking, wildlife photography and bird watching. There is a wide variety of flora and fauna in this wildlife sanctuary.
2. Parambikulam Wild Life Sanctuary, Palakkad : It abounds in a variety of trees, mainly teak, neem, sandalwood and rosewood. There are three dams within the Parambikulam wildlife sanctuary, Parambikulam, Thunakadavu and Peruvaripallam. Parambikulam has the largest population of Gaurs (Indian bisons). The rich fauna includes tigers, leopards, elephants, sambars, tahrs, wild dogs, Indian muntjacs, spotted deer,  jungle cats, bonnet macaques, lion-tailed macaques apart from nearly 150 species of birds. There are two watchtowers to observe animals. The place is ideal for boating and trekking. Boating and cruising facilities are available in the reservoirs.
3. Chinnar Wildlife Sanctuary, Idukki : Chinnar wild life sanctuary covers an area of 90 sq. km. It has only 48 days of rain, unlike other parts of kerala. It is a habitat of endangered giant grizzled squirrel of India. The Marayoor sandal forest and the beautiful Thoovanam waterfalls are located here. Travelling along the Karimunthi – Chinnar road one can spot Elephants, Spotted Deer, Sambhar, Hanuman monkey and even Peacocks on either sides of the road. There is a watchtower to observe animals. Early hours of the day is the best time to visit this sanctuary.
4. Wayanad Wildlife Sanctuary, Wayanad :  The Wayanad sanctuary is part of the Wayanad plateau and is home to tigers, leopards, elephants, monkeys, Panther, jungle cat, tiger, civet cat, wild dog, deer, bear and bison. Peacock, babblers, cuckoos, owl, wood pecker and jungle fowl are only a few among the different types of birds seen in the area. The sanctuary is an extension of the Bandipur National Park in Kerala at its southern border. Rich in bio-diversity, the sanctuary is an integral part of the nilgiri biosphere reserve, which has been established with the chief objective of conserving the biological heritage of the region.
5. Neyyar Wildlife Sanctarty, Trivandrum : A crocodile rearing centre set up by the Govt. of India, deer farm and lion safari park are the main attractions. The park houses reptiles like pythons, cobras and monitor lizards and well-maintained gardens.
6. Peppara Wild Life Sanctuary, Trivandrum : This National Park is the natural habitat of tiger, panther, wild dog, elephant, gaur, mouse deer, Nilgiri langur, sambhar, lion tailed macaque, barking deer, wild boar, Malabar squirrel etc. There are 13 tribal settlements. The tribes have a fascinating culture untouched by modern life bustling outside the sanctuary.
7. Chenthuruni Wild Life Sanctuary, Kollam : The Chenthuruni River flows through the midst of this sanctuary. Both shores of the river is covered with thick forests which is home to a lot of diffrent species of trees and animals like, Elephans, Deer, Tigers, different kinds of Monkeys.
8. Peechi – Vazhani Wild life Sanctuary, Thrissur : It lies in the catchment area of the Peechi and Vazhani dams. With more than 50 species of orchids, medicinal plants, rosewood and teak wood the sanctuary is a veritable treasure trove of rare flora and fauna. Animals like leopards, sambar deer, wild dogs, barking deer, spotted deer, bison and elephants can be seen here.
9. Chimmini Wild life Sanctuary, Thrissur : This sanctuary has a dam and is constructed across Chimmini River at 75 m above the sea level. Animals like leopard, tiger, elephant, bear, wild pigs, wild bison etc are commonly seen here. Vegetation here consists of Evergreen forests, Semi evergreen forests. Leaf shedding forests.
10. Aralam Wild life Sanctuary, Kannur : A variety of flora and fauna endemic to the Western Ghats is found here. Herds of deer, elephants, boar and bison are quite common. Leopards, Jungle Cats and various types of Squirrels have also been sighted. It lies in the western slopes of  Western Ghats.
11. Idukki Wild Life Sanctuary, Idukki : Wild Population of Idukki Wildlife Sanctuary includes Elephants, Bison, Sambhar, Deer, Wild Dogs, Jungle Cats, Tiger, Wild Boar etc. The avian population includes Jungle Fowl, Myna, Laughing Thrush, Black Bulbul, Peafowl, Woodpecker, Kingfisher etc.
12. Mangalavanam Bird Sanctuary, Cochin : It gained importance because of the mangrove vegetation and also due to the congregation of communally breeding birds. The most common bird species found at Mangalavanarn were Little Cormorant and Black-crowned Night Heron. Highest species richness of birds was found in the months of May and July.
13. Thattekad Wildlife Sanctuary, Ernakulam : It is home for almost 500 species of birds. Dr Salim Ali, the renowned ornithologist of India, described Thattekad in the 1930′s as the richest bird habitat in peninsular India, comparable only with the eastern Himalayas and hence is also known as Salim Ali Bird Sanctuary.
National Parks in Kerala:
1. Idukki
We find 4 National parks in the district of Idukki in Kerala. And the first to be formed was the Eravikulam National park was formed in order the protect the endangered species called Nilgiri Tahr, the only wild goat species. This goat is otherwise found in the southern Himalayas. This place is also known as roof of Kerala, as its a height of 2,695 km. Mathikettan Shola is another National park in Idukki which was decided to be protected in November 2003, for its wildlife and rich biodiversity. Anamudi Shola and Pampadum Shola are the other two National parks of Kerala. Both protected for its bio-diversities.
2. Palakkad
Silent Valley National Park was recognized and notified as National Park in 1984. It covers an area of 89.52 square kilometers in the district of Palakkad. The park got this name as the Silent Valley is free from the chirping noise of crickets. It was planned to be protected as National Park for one of the most endangered species of monkeys, the Lion-tailed Macaque. Wildlife here includes Elephants, Tigers, Gaur Sambhar, Panther etc. Besides, the thick undergrowth and foliage provides a suitable hide out for a number of small animals. The park is also home to a rich reserve of rare plants and herbs.
Kerala is only place in India, which gives you such a lot of choices to spend your time and make them immortal.
TravMate Holidays, one of the leading Tour Operating Company in Kerala, India, provides Kerala Tour Packages at affordable price.
Kerala Tour Packages | Indian Tour Packages | International Tour Packages